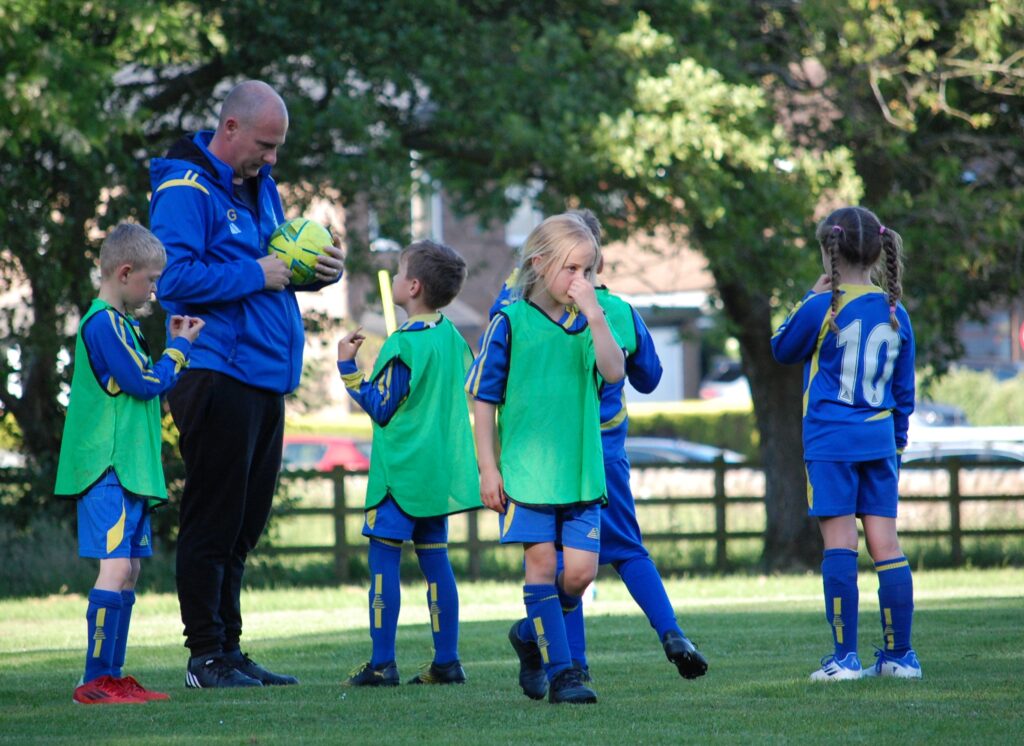 There's a lot of work that goes into running a junior football club: players need to be recruited; teams need to be registered; fees need to be collected; new coaches and officials need to be trained and certified; existing Club officials need to update their safeguarding and first aid certification; pitches need to be booked; team managers and coaches need to manage their players and prepare them to play on match day; kit and equipment needs to be bought and distributed; and the bills need to be paid.
All of this work gets done through the tireless efforts of incredible parents of players, past and present, who give their time and energy to the Club so that our children can enjoy the game.
Your Team Needs You
We want to encourage Parents not just to support their own children, but also to help their child's team in some small way. Team Managers and Coaches have a lot to think about and will always appreciate some help in fulfilling the routine tasks involved in running the team, particularly on match day. An extra pair of hands lightens the load and allows the Team Manager / Coach to focus their attention on the Players.
It is really helpful when parents:-
check the condition of the pitch and ensure it is safe and free of debris
for home games – set up / put away the nets, corner flags and respect barrier
organise someone to run the line
For those able and willing to give a little more of their time there may also be opportunities to become involved in the management of the Club either as a Committee member or a club official helping with the management and coaching of a team.
So if you'd like to help, we'd be delighted to welcome you to the team.
Volunteers Trained and Qualified
It is important that the Club's volunteers are appropriately qualified and meet the minimum requirements set down by the government, England Football and the FA with respect to working with Children. Club Officials, Coaches and Team Managers will, where required, be appropriately qualified and cleared to work with children by the government's Disclosure and Barring Service (DBS).
Team Managers and Coaches will, where required, complete the FA's EE Playmaker and Introduction to Coaching Football courses and all volunteers are encouraged, and supported, to develop their qualifications further through the Football Association's education system.
The Club will ensure that everyone working with a team meets the following minimum requirements, the costs of which will be covered by the Club:
| | | | |
| --- | --- | --- | --- |
| Course / Certificate | Team Manager | Coach | Asst. Coach |
| FA-DBS Clearance | ✅ | ✅ | ✅ |
| FA Safeguarding Children | ✅ | ✅ | ✅ |
| FA Introduction to First Aid | Optional | ✅ | Optional |
| EE Playmaker | ✅ 1 | ✅ | ✅ 1 |
| FA Introduction to Coaching Football | Optional | ✅ | ⛔️ |
1 if assisting with training.
---
Join the Club as a Volunteer
If you are interested in helping your team, please first have a chat with your Team Manager, or any member of the Club Committee.
If appointed as a Club Volunteer, you will then need to join the Club as a member by completing the membership form below. There are no membership fees associated with joining the club as a volunteer.
In order to complete this form you will need an FA Number (often referred to as a FAN) which is the unique number used by the FA to record all football participants, including Players, Referees, Coaches & Club/League Officials. If you are not sure whether you have one or definitely don't have an FA Number, please follow this link for instructions.
Volunteer Membership Form
PLEASE DO NOT COMPLETE THIS FORM UNLESS YOU HAVE BEEN APPOINTED AS A CLUB VOLUNTEER.